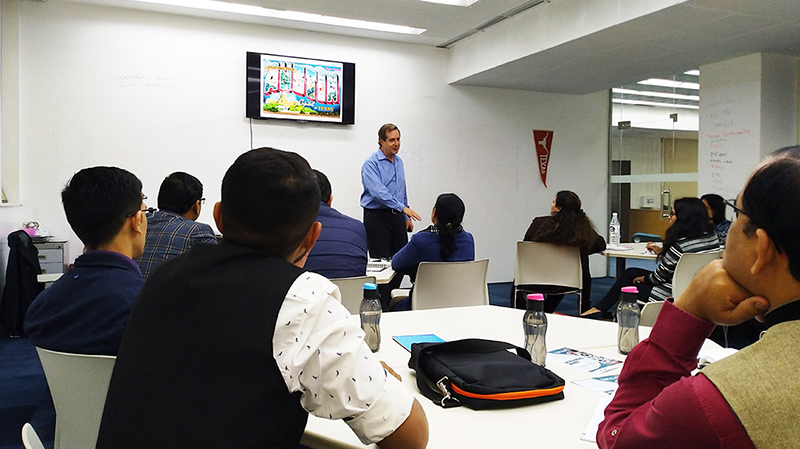 Incubator Manager Training at American Center, New Delhi
Nexus conducted its flagship Incubator Manager Training in New Delhi on February 7th-8th, 2019.
The two-day training was conducted by Glenn Robinson, Assistant Director of the IC² Institute at The University of Texas at Austin, and was attended by 25 incubator managers from the states of Assam, Bihar, Delhi, Gujarat, Kerala, Haryana, Maharashtra, Odisha, Uttar Pradesh, Uttarakhand and Sikkim.
Public Affairs Officer Conrad Turner of the US Consulate interacted with the participants and apprised them of the bilateral relations between India and the US. He emphasized on the importance of effective communication among entrepreneurs and incubator managers. Nexus Director Erik Azulay invited the incubator managers to partner with Nexus to strengthen the entrepreneurship ecosystem in India.
The Incubator Manager Training program grew out of successful sessions offered in 2018 in New Delhi and Chandigarh, which led to demand for a more structured program. The US Department of State funded the Incubator Manager Training 2019 program, which is being operated by the IC² Institute.
The program received 195 applications from incubator managers, of which 120 participants will attend the introductory two-day training being held in six cities across India. In phase 2, 40 of the introductory participants will be selected to undertake an online Innovation Readiness course in April. Of those, 20 incubator managers will be selected to attend an advanced five-day, in-person training at Nexus in New Delhi in May 2019.